Berkeley RDI Frontier Forum
3/31/22 - A conversation on Central Bank Digital Currency: Why, Why not, Alternatives
March 31 10:00 am - 12:00 pm PST
Webinar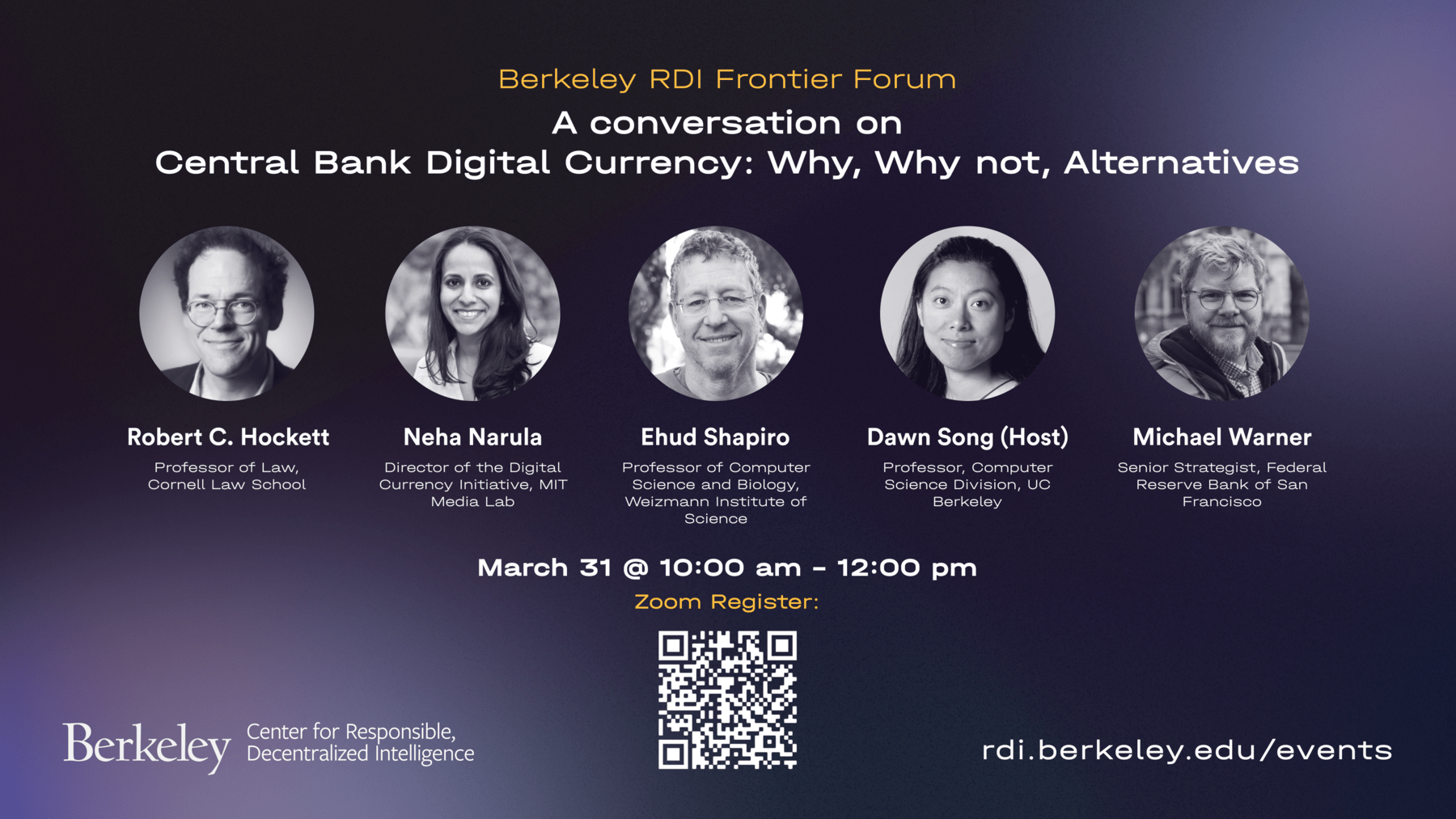 The Event
You're invited! UC Berkeley's new Center for Responsible, Decentralized Intelligence (RDI) is excited to announce the first panel of its Frontier Forum speaker series. Join us online on Thursday, March 31st at 10:00am for a series of presentations and roundtable discussion on the benefits, challenges and alternatives of Central Bank Digital Currency!
Featuring a panel of thought leaders from the Federal Reserve and academia, this event will provide insights into the implications of a centralized digital currency.
Speakers
Robert C. Hockett
Robert Hockett joined the Cornell Law Faculty in 2004. His principal teaching, research, and writing interests lie in the fields of organizational, financial, and monetary law and economics in both their positive and normative, as well as their national and transnational, dimensions. His guiding concern in these fields is with the legal and institutional prerequisites to a just, prosperous, and sustainable economic order.

A Fellow of the Century Foundation and regular commissioned author for the New America Foundation, Hockett also does regular consulting work for the Federal Reserve Bank of New York, the International Monetary Fund, Americans for Financial Reform, the 'Occupy' Cooperative, and a number of federal and state legislators and local governments.

Prior to doing his doctoral work and entering academe, he worked for the International Monetary Fund and clerked for the Honorable Deanell Reece Tacha, Chief Judge of the U.S. Court of Appeals for the Tenth Circuit.
Neha Narula
Neha Narula is the Director of the Digital Currency Initiative at the MIT Media Lab, where her research interests are in cryptocurrencies and distributed systems. She received her PhD in computer science from MIT in 2015, where she published work on fast, scalable databases. Neha has given a TED talk on the future of money, was named to WIRED's list of 25 leaders shaping the next 25 years of technology, and was listed on Fortune's Ledger 40 under 40. In a previous life, she helped relaunch the news aggregator Digg and was a senior software engineer at Google.
Ehud Shapiro
Ehud Shapiro is an interdisciplinary scientist, entrepreneur, artist, and political activist. He earned his BA/BSc in mathematics and philosophy from Tel Aviv University in 1979 and his PhD in computer science from Yale in 1982; he has been with the Weizmann Institute of Science since then, where he holds the Harry Weinrebe Professorial Chair of Computer Science and Biology. His PhD research on inductive logic programming and algorithmic debugging has served as a foundation for these two disciplines. At Weizmann, he developed the discipline of concurrent logic programming and the distributed logic programming language Concurrent Prolog, in collaboration with the Japanese Fifth Generation Computer Systems project. In 1993, he founded Ubique Ltd., the first internet social networking software start-up. In 1995, Ubique launched Virtual Places 1.0, a social networking/2D metaverse application with 2D avatars on web pages, providing instant messaging, chat rooms, joint and guided web surfing, online events and games, and integrated voice-over IP. This was well before Facebook was founded and two and a half decades before it announced its interest in the metaverse. He sold Ubique to America Online, performed a management buyout, and then sold it again in 1998 to IBM, where its technology was the basis of Sametime, IBM's successful corporate network communication and collaboration product.

Upon return to Weizmann in 1998, Ehud switched to biology, and led research projects on biomolecular computers, synthetic biology, and human cell lineage reconstruction, for which he received two ERC Advanced Grants. In 2017, he began working on digital democracy, initially with Nimrod Talmon and later also with collaborators and a research team he formed at Weizmann. In 2020, Ehud founded a new Israeli political party, democratit. Ehud is a bass singer and the founder and artistic director of the Ba Rock Band. He is presently on sabbatical at Columbia University in its computer science department.
Michael Warner
Mike Warner is a technology strategist who works in the Federal Reserve (FRS) of San Francisco. He is focused on the intersection of emerging digital/social systems of value (payments), intelligence (economics) and trust (supervision) as they relate to inflective innovations and the landscape for a new digitally enabled economy. Over his nine years at the Fed, he has worked with the TechLab, co-chaired application and data system architecture groups, participated in the early exploratory development of FedNow and was part of the team that deployed our current national cash infrastructure system. Previously he was the CEO and founder of Quantum4D – a venture funded (In-Q-Tel) software company that developed holographic systems modeling capabilities for the US intelligence community and SWIFT. He got started in technology at Sun Microsystems and has worked as an Ontologist and Information Architect at various start-ups. He is passionate about the intersection of innovation and public service as they relate to the transformations that may help us resolve previously intractable challenges of climate and inclusion.